Home - Product

Product

E-mail:

sales@aquilapharmatech.com

Website: www.aquilapharmatech.com

Mail: Aquila Pharmatech, Inc.

8225 Suite A, Farnsworth Rd

Waterville, OH, 43566 USA

Please include the following information with each order:

2. Quotation number (for Bulk quantity only)

3. Catalog number and product name/description of the product

5. Billing and shipping address

Terms of sale are net 30 days of date of invoice or credit card payment. A 1.5% monthly charge will be added to invoices on balances overdue for more than 30 days unless otherwise agreed upon. If collection of past due accounts requires legal resolution, customer will be responsible for all fees and court costs.

Aquila Pharmatech uses express delivery. All orders will be shipped via Federal Express when permitted. All freight, insurance, and special packaging charges will be added to the invoice unless other terms have been arranged. Written quotations are guaranteed for 30 days.

All prices are stated in US Dollars and quoted in the catalog are F.O.B. Waterville, OH, USA. Prices are subject to change without notice. For large quantity orders please contact us for a quotation.

Aquila Pharmatech's products are intended for laboratory research purposes, unless otherwise stated on product labels.

All chemicals listed in this catalog exceed 95% chemical purity and 98% optical purity when they are chiral compounds.

Many chemicals are hazardous. All of products should be handled only by qualified individuals trained in laboratory procedures and familiar with the potential hazards of the chemicals.




Limited Warranty and Liability

Aquila Pharmatech's products are warranted solely to identity and purity. NO OTHER EXPRESS OR IMPLIED WARRANTY OF FITNESS OR MERCHANTABILITY IS MADE. Aquila Pharmatech is only liable for the replacement of the defective product or a refund of the purchase price in the event of a breach

.

Aquila API R&D compounds may be covered by application and process patents. The customer is responsible for determining the existence of such patents and the corresponding liability is at buyer's risk.

Return shipment will not be accepted without prior authorization and shipping instructions. Be sure to contact us and we will do our best to resolve each situation in an equitable manner. All claims for replacement or credit must be made within 10 days of receipt of goods.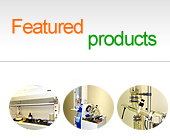 Tel: 419-3862527
Fax: 419-3862425
Email: sales@aquilapharmatech.com
Address: 8225 Farnsworth Road, Suite A, Waterville, OH 43566